Me under a handful of Sleng Teng.
Riddim Rewind is my new project for 2012. I'm going to look at important and/or influential reggae and dancehall riddims, write about their histories and impacts, and record an accompanying mix of that riddim. My goal is to have reggae fans of all levels, novice to veteran, learn more about and enjoy the riddims that have shaped the present.

Many would argue no Jamaican riddim had as much impact on our present as Jammy's Sleng Teng Riddim, so it will be my first selection.


Sleng Teng Riddim Mix
First lets start with the mix. It may be proper background music for your reading.
Riddim Rewind- Sleng Teng Riddim
by
Dan Dabber
Track Listing:
Turbulance- Notorious
Baby Cham- Ghetto Story
I-Wayne- Can't Stop this Fire
Jr. Gong- Jamrock
Taz & Marvelous- High Grade
Jr. Kelly- You Look Fine
Anthony B- No Fear
Ninja Man- Mad Again
Ninja Man- Murder Dem
Tenor Saw- Pumpkin Belly
Papa Faith- Maniac
Echo Minott- Hand Pon the Key
Sugar Minott- Jam in the Streets
Johnny Osbourne- Buddy Bye
Super Morris- Under Mi Peter Green
Wayne Smith- Under Mi Sleng Teng
Junior Cat- Bap Bap
Burro Banton- Step Up Inna Them Face
Khari Kill- Heavy Weed
Elephant Man- Shot Will Bark
Vybz Kartel- Say She Want
The Most Important Riddim Ever,
Whether You Like it or Not
The Basics
The first thing that any reggae fan needs to know is that the Jamaican music industry is producer-centric as opposed to the artist-centric music industry we are used to seeing in America.
In Jamaica, the producer puts together an instrumental track or
riddim
, hires artists to voice many individual versions over that riddim, and puts up the money to have the music released. Often enough versions are voiced to release full length albums of just one riddim. Sometimes there's even enough versions for a double album. But usually the riddims are released as a group of singles.
The idea is that a producer has a better chance of getting a hit out of a riddim if he has several versions to shop around. If one version does really well, often the other versions on the riddim see sales gains as a result.
If a riddim becomes very popular, it is likely that additional versions may be voiced, both official and non-official. It is also common for a popular riddim, especially one with staying power in the dancehall, to be imitated or re-worked by other producers.
One of the (if not
the
) most versioned and reworked riddims of all time is Jammy's
Sleng Teng Riddim
.
The Producer
Jammy
Lloyd James, who early in his career was know as
Prince Jammy
and later promoted himself to
King Jammy
, got his start in the music industry as an engineer for King Tubby, a legendary roots reggae and dub producer. Jammy earned a reputation for his spaced-out, effect laden mixes throughout the 70s, and he produced some well-received dub, roots, and pre-digital dancehall tunes. But Jammy didn't reach his legendary status until 1985 when he turned Jamaican music on its head with the riddim that changed it all,
Sleng Teng
.
The Riddim
I was already very familiar with the Sleng Teng a few years ago when my good friend, Preslav (Machine Age Studios), pulled out a little white keyboard and blew my mind. He collects vintage audio equipment and is also a huge fan of reggae and dancehall music. He purchased this little keyboard, which I would later learn was one of the first electronic keyboards made for home use, on Ebay and, after poking a few of its buttons, he made it spit the exact Sleng Teng bass line at me.
So, strangely enough, the story of the
Sleng Teng
begins in Japan, where a programmer inputs a bass line into the Casio MT-40 as the "rock" preset. It is popular opinion that he was attempting to imitate the bass from Eddie Cochran's 1959 tune,
Somethin' Else
. I'm not sure I hear the similarities, but I like the idea that the seed for Jamaican music's most important riddim could've been planted by an American rockabilly artist 25 years before the producers and artists, who probably never heard of him and almost certainly were unaware of any connection, brought that rockabilly seed to dancehall fruition through the miracle of modern technology.
Eddie Cochran- Somethin' Else
According to dancehall lore, it was Wayne Smith who found the rock preset while playing with Noel Davey's Casio. Davey didn't own the only MT-40 in the world, so many other musicians must have had access to the bass line before and at the same time as Smith. But, somehow, he was the only one in the world that saw the potential in it.
He started writing to it as it played from the keyboard, presumably the beginnings of his hit,
Under Mi Sleng Teng.
But, before he could finish, he lost his place in the machine and could not relocate the bass line. After a few days of searching the MT-40, Smith found the bass line again, finished his tune, and took it to Jammy.
I'm not sure why Jammy took Smith and his little toy seriously. A few producers had already put out a handful of computer-generated riddims but none of them stuck. Now Wayne Smith shows up with a tiny keyboard and wants one of Jamaica's premiere producers to build him a riddim from a fucking preset? Sounds like amateurish crazy talk to me. Or pure genius?
Wayne Smith
Jammy must have saw the potential in it as well, because he was quick to bring Tenor Saw and Johnny Osbourne into the studio to voice their versions. Jammy's original backing track featured the bass line and even the drums (I believe) from the MT-40 and very few bells and whistles. He added a clap to Wayne Smith's tune and some synth-organ beds and skanks on the others. He mixed them down with some of the echo effects from his old dub tool box.
These original versions, Smith's
Under Mi Sleng Teng
, Saw's
Pumpkin Belly
, and Osbourne's
Buddy Bye
, were introduced to the world on Febuary 23, 1985 at the legendary soundclash between Jammy's sound and Black Scorpio.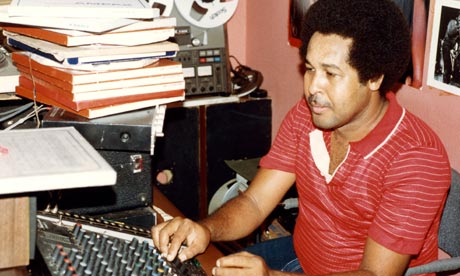 Jammy at the controls.
The Initial Reaction
Apparently, the crowd was going nuts while Jammy's sound let that iconic, computerized bass line fly for the first time at the clash. But then the scene took a turn for the worse, as policemen with assault rifles stormed the party. Babylon a mash up di place, ending the clash and spoiling
Sleng Teng
's world premiere.
The next morning, it seemed as though no one remembered that the police had ruined their good time. Everybody had
Sleng Teng
on their mind, so that's all the people spoke of.
Jammy attempted to capitalize on the success of
Sleng Teng
by releasing additional versions in 1985 on the original backing track (although some had their own unique production tweaks). The riddim was a huge success. Every artist in Jamaica wanted a version on the
Sleng Teng
and their own digital riddim to make famous. Producers began generating computerized riddims at a furious pace.
The Long-Term Musical Impact
Over the years, many producers in many genres have paid musical homage to the
Sleng Teng
by re-imagining it. Even Jammy himself reworked the riddim in 2005,
Sleng Teng
's twentieth anniversary, and released the new versions on VP Records as an LP,
Riddim Driven: Sleng Teng Resurrection
.
All in all,
Sleng Teng
is most likely
the
most versioned dancehall riddim of all time, boasting somewhere between 400 and 1000 official and non-official versions.
The Symbol of Change
With Bob Marley five years in the ground, and the growing popularity of "slackness" (lyrics about sex and violence) in reggae, it was already pretty obvious by 1985 that the music scene in Jamaica had shifted. Roots reggae was a thing of the past in a lot of ways but, upon
Sleng Teng
's release, there was an obvious nail being pounded into it's coffin. In fact, Jammy himself decided to shelf a string of the live-band riddims that he had stacked up for release so he could put out new, computer-generated riddims. So, because of the digital frenzy that
Sleng Teng
created and the obvious decline of the previous, more organic ways of creating recorded music, Jammy and his most famous riddim have come to symbolize a giant shift in reggae and dancehall music. This shift is still firmly in place today, if not more so, and the few roots reggae zealots that remain often view the
Sleng Teng
as their John Conner. If only they could go Terminator and return to 1985 and kill the son of a bitch before it reaches its full potential, then they could save the future and everything would be hand drums, tams, and vegan fast food. Just like Bob imagined it...
This is obviously ridiculous for many reasons, not the least of which is my hyperbole. But one of life's most prominent rules is to adapt to change and move on. If you have not yet learned that rule or how to apply it to things other than your grandma dying, you need fi put in some reasoning time, Ras.
Here are a few other reasons why intelligent people should embrace the digital revolution:
1) The one drop riddim (the most common kind of rhythm in roots reggae) and culture music (modern "roots") still thrive in Jamaica. On some occasions these riddims are still built with human musicians. Remnants of the roots utopia still survive, and probably always will.
2) Reggae and even dancehall remains some of the most spiritual "pop" music in the world. Conscious lyrics and artists are still quite common on all kinds of riddims.
3) Jamaican music has always embraced technological innovation. Just look at what Lee Perry was doing when he was pioneering the dub revolution some fifteen or so years before
Sleng Teng
.
4) The digital revolution isn't just about gun lyrics or personal taste. The most important thing Jammy did with the
Sleng Teng
riddim was open doors for future producers. See, bands cost money. You have to pay for studio time, pay the musicians, maybe buy them lunch... After
Sleng Teng
, all you needed to produce a riddim was a tiny keyboard that didn't eat or desire an hourly wage. This meant that producers who may have never been able to scratch together the cash to push their ideas through the hands of a group of strangers in a studio could now easily afford to directly convey their vision to their audience. I'm not sure how you could quantify this impact but, based on the level of musical talent amongst stand-alone (don't use bands) producers, like Donovan Bennet aka Don Corleone and Stephen McGregor aka Di Genius, in reggae music today, I think it's safe to say that the art of production has in no way been dumbed-down since the arrival of
Sleng Teng
.
The Sources
For essential
Sleng Teng
versions, including many from my mix posted above, seek VP's
Riddim Driven: Sleng Teng Extravaganza (1985 Master Mega Hits)
and
Riddim Driven: Sleng Teng Resurection
.
For more Sleng Teng versions, start digging...
To read up more on Jammy and the dig rev (I like that), check out dancehall historian Beth Lesser's King Jammy's.
The Author
I've been DJing reggae and dancehall music for over 10 years. I've played on radio, in clubs, bars, house parties, block parties, community cook outs, on rooftops, and I even played a wedding once. It was a cool wedding, needless to say.
I've also had the privilege of playing opening sets for major reggae acts like T.O.K., Sean Paul, Bugle, Mr. Easy, Frisco Kid, Capleton, Stephen & Damien Marley, The Wailers, Soldiers of Jah Army, Mega Banton, The Gladiators, and many others.
I received a writing degree with a focus on nonfiction from the University of Pittsburgh in 2007.